The Wandle Trail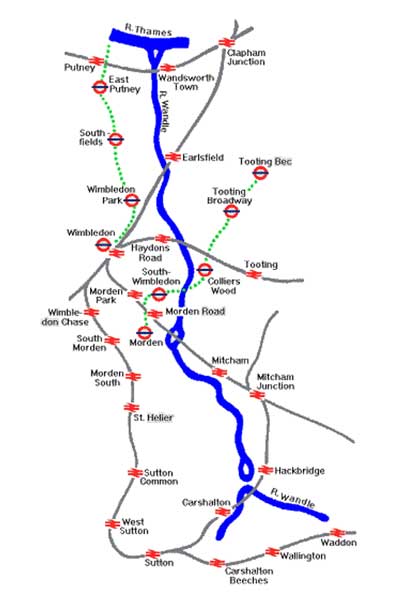 The Wandle Trail is primarily a walking route with alternative options for cyclists. It is accessible by wheelchair users although help may be needed in certain sections. There are good links to public services with bus, train and tram stops available along the route as well as refreshment facilities. The complete length of the trail is around 20kms (14 miles) and it is possible to cover it in 'bite size pieces'.
Whilst the industries along the river have disappeared and many of the mills have gone there is much to admire about the river and it's past. The museum has produced 'A Guide to the Wandle Trail' which highlights some of the historic sites that existed along the river. This can be downloaded from this page or a hard copy may be purchased from the museum at the cost of £1.50.
A copy of a Guide to the Wandle Trail may be printed by clicking here. To print as an A5 booklet select 'Booklet' in the PDF print options and print as a double sided document.
To download a mobile/tablet version of the map please click here.
Use the IZI Travel app to help you enjoy elements of the Wandle Trail. The app covers four areas: (1) Merton Abbey, (2) Morden Hall Park, (3) Mitcham and Ravensbury Park and (4) Merton Mills. Visit the IZI Travel page here. The link can also be used from home as well as when out and about enjoying the Wandle Trail.
A useful addition to help support the guide is 'The Mills of the River Wandle' by David Saxby. This is available from the museum shop at the cost of £3.00.