Our mission is to preserve, store, and interpret the heritage and history of the industries and people of the River Wandle.
Opening Times: Wednesday 1-4pm and Sundays 2-5pm. Closed Bank Holiday Weekends.
Sunday opening may be subject to change. Please check before visiting.
Latest News
Mitcham Heritage Day

Taking place on the 10th September this annual event is an opportunity to find out about Mitcham and it's wonderful heritage and history from the oldest cricket club in the world to the Mitcham Fair from Elizabethan times. The museum will be open through out the day from 10am.
We are delighted to announce that we will be hosting the book conservator Katarina Kelsey from 12-3pm. Katarina will show you historic book structures, the creepy crawlies and materials that eat books up, and will be demonstrating how book conservators repair historic books and manuscripts. There will be an opportunity for children to drop in throughout the day to make their own origami book structures. More about Katarina can be found at here
For full details of everything taking place on Mitcham Heritage Day visit here
Heritage Walks Programme 2022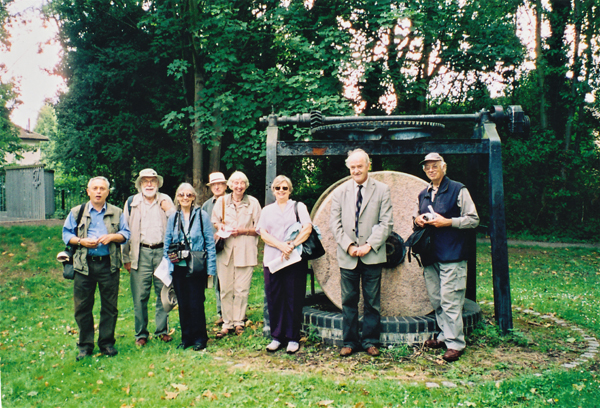 The final walk of our 2022 walks programme will take place in September. All walks are led by our volunteer John Sheridan. To book a place email john.sheridan08@gmail.com. The final walk of the year is:
Thursday 22nd September. From Mitcham Tram Stop to Morden Hall Park. Starting at the start of the remaining part of the route of the Surrey Iron Railway this walk takes in the rich heritage of the area through Ravensbury Park. Along the route of the walk, you will learn about the Wandle's brewing past, it's links to trout fishing and to the textile industry plus more. Meet at 11am on South Bound Platform of Mitcham Tram Stop.
The museum is happy to arrange specific walks for any group, organisation or school. Email us at office@wandle.org if wish to have a walk along the River Wandle and learn about its rich heritage.
Wandle Fortnight 2022

This year Wandle Fortnight is taking place from 10th September until 25th September. Lots to see, do and get involved in. Ful details are available here
Oral History Project
The museum would like to capture the memories of those who worked in the industries along the River Wandle. Did you work in one or have a relation who did? If you would like to share what you remember we would like to hear from you. Please call the museum (020 8648 0127) or send us an email (office@wandle.org) and we will get back to you to make arrangements to capture your part in history.